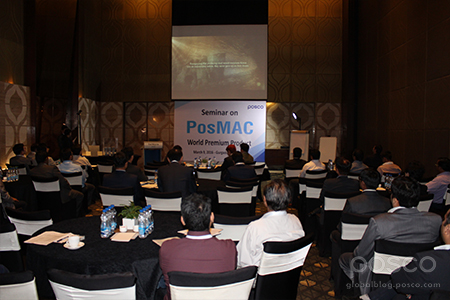 POSCO's Hot Rolled and Construction Steel Material Marketing Department, in conjunction with POSCO-INDIA(President, Mr.Gee-Woong Sung) and POSCO-IDPC, conducted a technical seminar for its clients at the Westin Hotel in Gurgaon, India on March 9, 2016. It was the first seminar in which POSCO introduced its World Premium product PosMAC (POSCO Magnesium Aluminum Coated Steel) to the world.
The purpose of the seminar was to introduce PosMAC steel and explain its benefits to existing and potential clients in the Indian market. A total of 70 participants including clients, traders and interested government officials, among others, were in attendance.
A detailed presentation on PosMAC was given by the POSCO Product Application Center's Dr. Tae Hyu Ha. Stressing the importance and versatility of PosMAC as a premium steel, Ha explained the distinct advantages of PosMAC compared to other types of steel.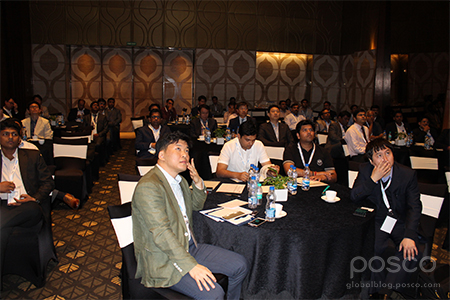 Despite its thinner coatings, PosMAC was described as five to ten times more corrosion-resistant than competing products, boasting superior chemical properties. PosMAC's high performance under corrosive conditions, such as alkaline, humid and high-salt environments, was emphasized in a discussion on its application in large-scale projects.
Afterwards, attendees inquired about the product characteristics, practical usage, certification and warranty conditions of PosMAC, which were duly answered by Ha.
The session also provided networking opportunities for POSCO and its potential clients.
Following the seminar, POSCO-INDIA expects a boost in marketing and sales of PosMAC and aims to strengthen the sales of POSCO's solutions marketing and World Premium (WP) products in India.
In particular, POSCO seeks to make PosMAC a widely used product in the solar power industry. Being supported by the Indian government's solar energy mission to reach 100 gigawatts (GW) by 2022, the solar industry has a high growth potential.
PosMAC steel is in high demand, not only for its strength and resistance but also for its cost-effectiveness, including its life-cycle cost (LCC) effectiveness.
In addition, the pre-engineered buildings (PEB), pipe and white goods industries are also high growth potential areas for PosMAC. With a strengthening economy and increased focus on infrastructure, the Indian market seems to offer a very bright future for PosMAC steel.
Be sure you never miss any of the exciting steel stories from The Steel Wire by subscribing to our blog.