At a company briefing session on January 25, 2017, POSCO announced that it had recorded consolidated sales of KRW 53.835 trillion and a consolidated operating profit of KRW 2.8443 trillion in 2016.
POSCO Group's consolidated sales have declined year-on-year due to a sluggish domestic market, unfavorable overseas market conditions, and a decrease in the number of subsidiaries due to group restructuring. However, the group's consolidated operating profit increased by 18% year-on-year thanks to a significant improvement in profits in the overseas steel sector.
In particular, after POSCO's overseas steel subsidiaries showed a combined operating deficit of KRW 429.9 billion in 2015, they managed to achieve a combined operating profit of KRW 218.2 billion in 2016 due to increased sales of high value-added products and cost reduction. The performance of POSCO's major overseas steel subsidiaries has also improved significantly, with Zhangjiagang Pohang Stainless Steel Co., Ltd. and POSCO Maharashtra Steel achieving an operating profit of KRW 107.4 billion and KRW 36 billion respectively.
POSCO's consolidated net profit was also in the black, from a net loss of KRW 96.2 billion in 2015 to a net profit of KRW 1.482 trillion in 2016.
Separately, POSCO recorded sales of KRW 24.3249 trillion and an operating profit of KRW 2.6353 trillion in 2016. POSCO's sales fell by 5% year-on-year due to a decline in product prices; however, POSCO's operating profit grew by 17.7% year-on-year, thanks to the company's cost reduction efforts and expanded sales of its World Premium (WP) products, which are its proprietary high-value-added products
Although last year saw a depressed market in which the price difference between finished steel products and their raw materials reduced by KRW 1.2 trillion, POSCO managed to increase its operating profit by more than KRW 400 billion compared to 2015 by securing KRW 1.4 trillion with its internal revenue-generation activities alone; KRW 1 trillion through increasing sales of WP products, and KRW 400 billion through cost reduction methods. As a result, the company's operating margin recovered to a double-digit figure for the first time since 2011 (10.8%).
The sales of POSCO's WP products reached a record high of 15.973 million tons, up 32.63 million tons compared to the previous year. As a result, POSCO's sales of WP products reached a share of 47.3% among the company's total sales. In addition, the company's solution marketing-linked sales also increased 61% to 3.90 million tons.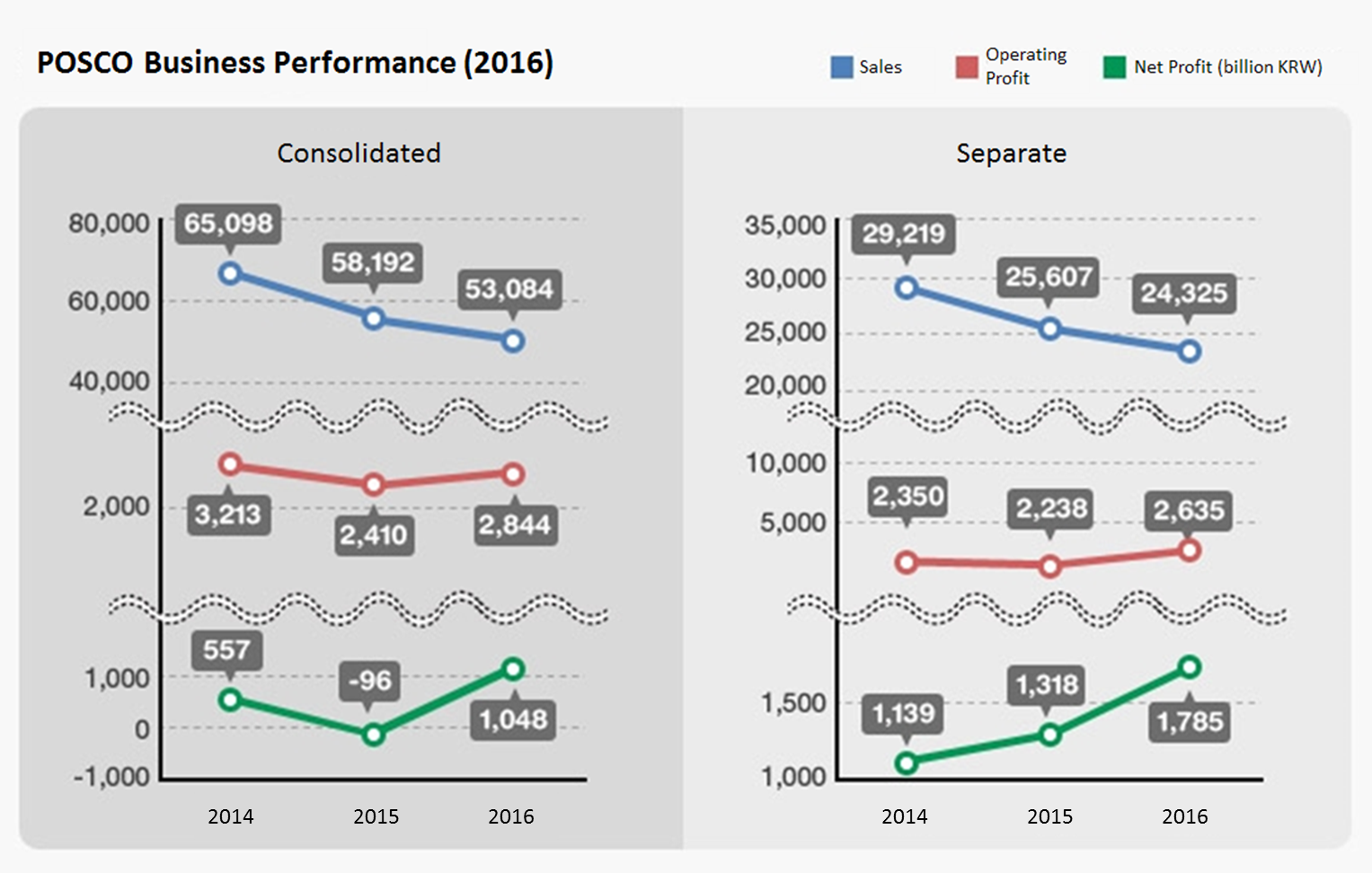 POSCO's financial soundness has also improved dramatically. POSCO lowered its consolidated debt-to-equity ratio to 74% by reducing its net debt by KRW 7.1 trillion in three years since POSCO CEO Ohjoon Kwon's inauguration. In particular, POSCO's separate debt ratio stands at 17.4%, the lowest figure since its foundation. The company's consolidated borrowings also decreased by KRW 2.5152 trillion from the previous year.
The restructuring of the company's affiliates and assets are also moving forward. 126 of the 149 restructuring targets that the company set in 2014 have been completed, which resulted in a cumulative financial improvement of KRW 5.8 trillion thanks to the acquisition of cash and the reduction of borrowings.
POSCO's aim is to strengthen its steel earning power, which is one of the best in the world, as well as to complete the restructuring planned in POSCO 2.0 in order to set the foundation for future growth. Most notably, the company plans to increase the share of the sales of its WP products to 52% and to increase the volume of solution-linked sales to more than 4.5 million tons this year, thereby further boosting its competitiveness in the steel industry.
For 2017, POSCO is aiming for sales of KRW 54.8 trillion consolidated and KRW 25.6 trillion separate. In order to secure future competitiveness in an increasingly difficult market environment where you see the global steel industry dealing with oversupply and sluggish demand, the company plans to increase its investment cost by KRW 1 trillion consolidated and KRW 600 billion separate, to KRW 3.5 trillion and KRW 2.6 trillion respectively. At the same time, the company plans to continue reducing its net debt to KRW 1.7 trillion consolidated and KRW 1.3 trillion separate.
Don't miss any of the exciting stories from The Steel Wire – subscribe via email today.