POSCO has once again been named the world's No.1 steelmaker.
Global steel information service provider World Steel Dynamics (WSD) announced the World-Class Steelmaker Rankings on June 13 in New York. POSCO has topped the list as the world's best steelmaker for the seventh consecutive year.
This year's achievement is especially meaningful, as the company faced a tough business environment in 2015 due to global oversupply, a downturn of major demand industries and import restrictions on exporting countries. POSCO also underwent a strict restructuring process to improve its financial structure.
The WSD assessed 37 steelmakers around the world in 23 categories including technological innovation, cost competitiveness, financial stability and procurement.
POSCO ranked at the top with a score of 8.02. The company was credited for its investment attraction of Saudi Arabia's sovereign wealth fund and the reorganization of its corporate structure, including its sale of POSCO Specialty Steel.
POSCO was also applauded for making use of innovative technologies such as FINEX and CEM, improving the technical skills and productivity of its engineers, increasing sales of value-added high-end products such as World Premium products and reducing costs.
Japanese Nippon Steel and Sumitomo Metal Corp ranked second, having improved export competitiveness thanks to a weak yen. US-based steelmakers Nucor and SDI ranked third and fourth, respectively, having improved competitiveness in energy costs through the use of shale gas.
Russian steelmaker NLMK, who boasts iron ore and coal mines, came in fifth while Severstal, another Russian company, ranked sixth. Hyundai Steel placed twelfth this year.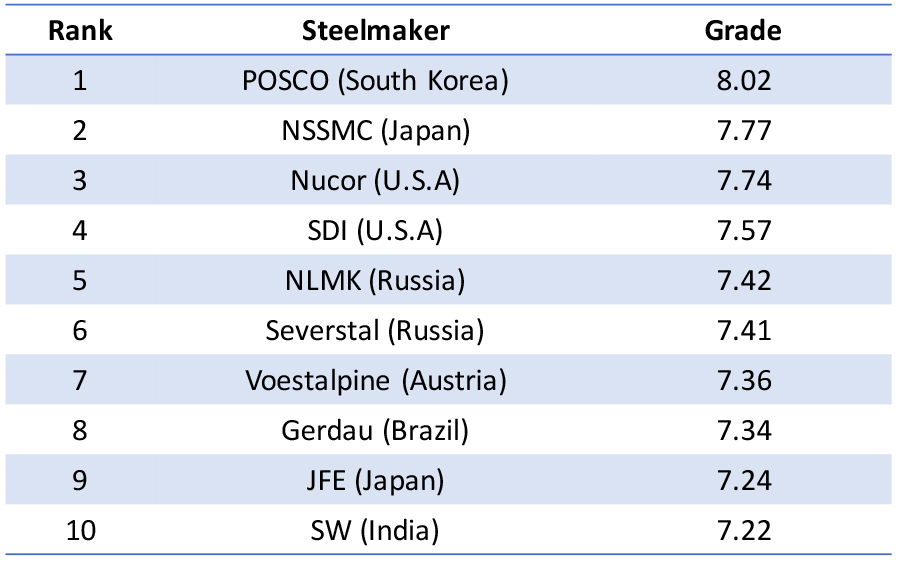 Be sure you never miss any of the exciting steel stories from The Steel Wire by subscribing to our blog.