With another quarter wrapping up for 2016, POSCO is continuing to produce strong results and receive significant recognition for its work this year. Here is a look at the six biggest POSCO-related stories from July to September, illustrating the successes the company is enjoying.
12 Years of Sustainable Excellence
In September, the Dow Jones Sustainability Indices (DJSI) once again recognized POSCO for excellence when it comes to sustainable management policies. With the award, POSCO has won DJSI recognition for 12 consecutive years, the only steel company in the world to be so honored.
In this year's report, POSCO ranked tops among steel companies for risk management, biodiversity, social contribution and stakeholder management.
POSCO Completes Southeast Asia's First Automotive Steel Plant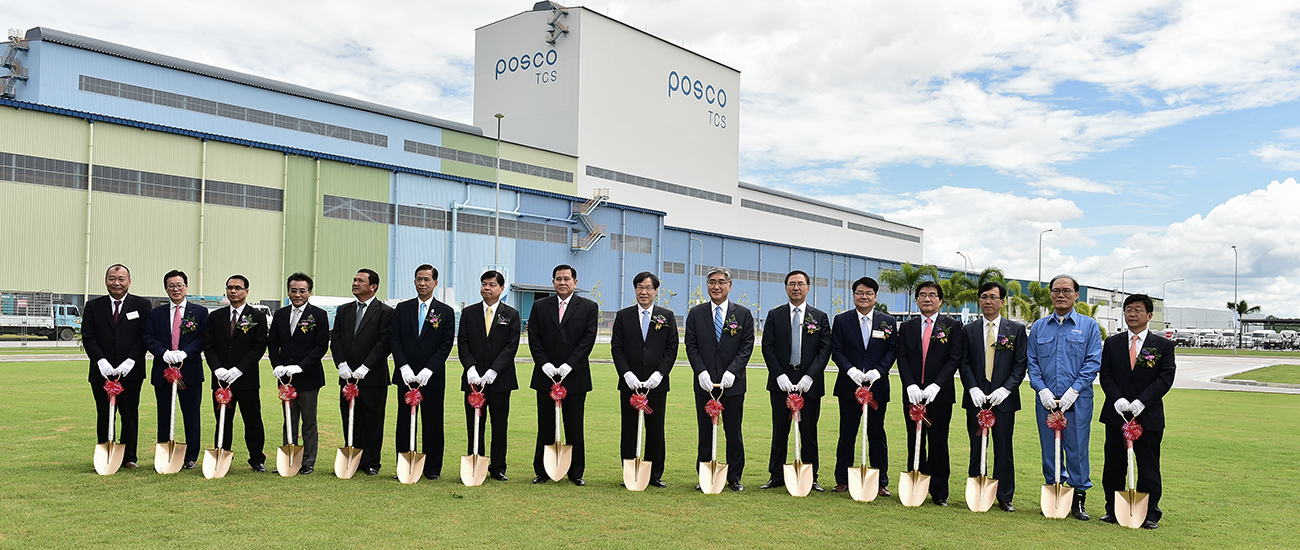 In Thailand at the end of August, POSCO held a ceremony to celebrate the completion of Thailand CGL (Continuous Galvanizing Line). POSCO CEO Ohjoon Kwon attended the ceremony, along with more than 250 VIPs and others, including Thailand's Deputy Prime Minister and Minister for Foreign Affairs Tanasak Patimaprakorn, Minister of Industry Atchaka Sibunruang, Rayong Governor Somsak Suwansujarit, and the Korean Ambassador to Thailand Kwangil Noh.
With the annual production capacity of 450,000 tons, POSCO has expanded its product capacity for automotive steel sheets overseas to 2.25 million tons per year. POSCO next plans on establishing and extending CGL operations in Gwangyang, Korea, and China, bringing its total operations to seven lines in Korea and six lines overseas.
POSCO's High Manganese Steel Floor Plate Wins Award for Vibration-Resistant Qualities
In August, POSCO won the Jang Young Sil Award in recognition of its special noise-proof floor plates, developed with POSCO E&C. Made with high manganese steel Z clips, PosCozy floor plating is four times more vibration-resistant than general steel, making it ideal for use in apartment buildings.
Around 150 people attended the award ceremony, including the First Vice Minister Namki Hong from the Ministry of Science, ICT and Future Planning. The award was accepted by POSCO Steel Solution Marketing Department's Managing Director Deokrak Lee and principal researcher Youngdong Yoo.
POSCO's Financial Picture Continues to Improve in Second Quarter
In July, POSCO announced its second-quarter financial results, with sales reaching 12.86 billion won and 678.5 billion won in operating profits. Construction and energy sales were down slightly, but steel, ICT and other materials showed improvements, with the steel sector's operating profits up 33.1% from the previous quarter.
The company's profit margin reached 11.1%, the highest in four years, thanks to the increased sale of high-quality steel, with 3.839 million tons of World Premium products in the quarter, up by 157,000 tons from the previous quarter.
14 Startups Nurtured at POSCO's Latest Idea Marketplace
In July, POSCO held its 11th Idea Marketplace, the company's representative startup support program that helps a variety of startups develop their promising new ideas and find investors. At the latest Idea Marketplace, 14 startups were announced, joining a program where they develop their business plans and gain the help of mentors over a 10-week period.
Since 2011, POSCO has nurtured 122 startups, investing 8.5 billion won into 53 of them. The Idea Marketplace is part of POSCO's dedication to developing a creative economy and developing jobs.
POSCO's High Manganese Steel to Build the World Largest LNG-Powered Bulk Carrier
POSCO's high manganese steel – independently developed for the first time in the world – is set to transform LNG-powered bulk carriers. Until now, the largest cargo capacity of Liquefied Natural Gas (LNG)-powered bulk carriers was 7,000 tons; but, due to the advantages of POSCO's high manganese steel, these new bulk carriers being built by Hyundai Mipo Dockyard will be able to carry 50,000 tons of freight.
The high manganese steel developed by POSCO contains about 20% manganese, which allows for the construction of LNG tanks are much stronger than the previous tanks, which are usually nickel or aluminum alloys. POSCO officials say they plan on building the overseas market for high manganese steel together with shipbuilders like Daewoo Shipbuilding & Marine Engineering.
With 2016 already three-quarters done, the year is shaping up to be one of the strongest for POSCO. The world steel industry continues to try adjusting to a sometimes challenging global economic climate, but at POSCO, we remain dedicated to pursuing excellence and innovation.
Growth and Giving Back Highlight POSCO's 2Q
POSCO Starts 2016 with Exciting News from Around the World
Be sure you never miss any of the exciting steel stories from The Steel Wire by subscribing to our blog.