Earthquakes are destructive yet commonly occurring natural disasters that affect thousands of people every year. They are known to be deadly, but the quakes themselves don't usually present the most direct danger to people. Most hazards actually come from collapsing structures that either trap and crush occupants inside, or create floods and explosions.
The catastrophes of 2016 Kumamoto Earthquake and 2016 Ecuador Earthquake last April have left irreparable damages in each region, destroying countless structures and taking the lives of many. These damages, mainly as a result of collapsing manmade structures, have further emphasized the need to look for ways to minimize casualties from falling buildings caused by earthquakes.
For buildings to be considered relatively safe even in dangerous situations, constructing them with earthquake-resistant materials has become essential. POSCO, a leader in the global steel industry, also holds the lead in developing and commercializing earthquake-resistant steels that are used to build safer structures.
How Earthquake-Resistant Steels Can Save Your Life
Though completely preventing damages to structures is impossible, there are construction techniques that can help buildings withstand moderate to strong earthquakes. These earthquake-resistant structures not only allow more time for occupants to evacuate, but also reduce the possibility of sequential damages when a quake hits.
One way to make structures earthquake-resistant is by constructing them with durable materials that can bend and absorb shock in the case of earthquakes. Adding flexibility to buildings can reduce strain on the entire structure by helping them sway from side to side and distributing the movement throughout.
Previously, buildings constructed with other materials were prone to collapsing during earthquakes. However, with earthquake-resistant materials, buildings can be constructed with more durability and flexibility. As such, they can prevent gas pipes from breaking and causing fires or explosions, and can keep occupants inside from getting crushed.
POSCO's Efforts in Making the World Earthquake-Resistant
POSCO has been a forerunner in developing and manufacturing various earthquake-resistant steel for structures since 1995. The three different high-quality earthquake-resistant materials that POSCO has been focusing on – SN Steel, TMCP Steel, and HSA Steel – all play an important role in making Korea and the world earthquake-resistant.­
SN (Steel New) Steel, a structural steel product that has been made to comply with strict earthquake-resistant construction regulations in Japan, has been used in general buildings as well as large public facilities. This steel is strong, resilient and has high wielding abilities. Most of all, it allows the buildings to absorb and flexibly move with the seismic vibrations.
Like SN Steel, TMCP (Thermo Mechanical Controlled Process) Steel helps the overall structure absorb the earthquake's energy by deforming to the vibrations. In particular, its low yield ratio allows the steel to bend instead of break in the case of an earthquake. This steel was used in the construction of the International Finance Center (IFC) Seoul.
The newest products, has HSA (High-performance Steel for Architecture) Steel Grades, are also excellent in equipping buildings with earthquake-resistant qualities. They have been deemed especially suitable for building skyscrapers and horizontally long structures.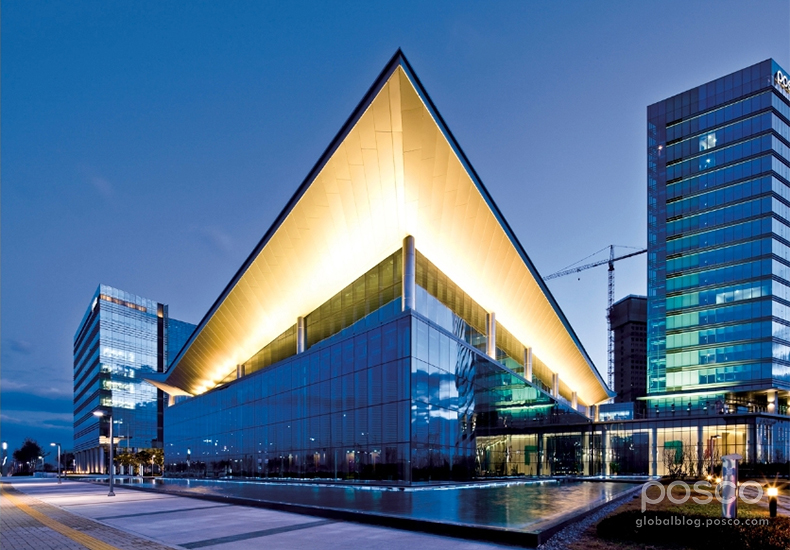 These steel products are transformed into earthquake-resistant steel pipes that are used for constructing buildings. POSCO makes Circular Pipes (Models SPAR295 and SPAR360) and Squared Pipes (SPAR235, SPAR325) that not only provide earthquake-resistance qualities, but also reduce costs. These two materials were used in the construction of the Songdo POSCO Global R&D Center, among other well-known structures.
Globalizing Earthquake-Resistant Materials
As earthquakes become more frequent, many are beginning to see the importance of using earthquake-resistant materials in the building of large structures and public facilities. POSCO will play a significant role in making structures safer by supplying high quality earthquake-resistant products to the world. The company plans to start by gradually increasing sales in Japan, where there are especially strict standards for buildings.
POSCO continues to spare no efforts in developing steel products to be used in constructing safer buildings in areas prone to earthquakes.
Using Specialized Steel to Successfully Resist Earthquakes
Be sure you never miss any of the exciting steel stories from The Steel Wire by subscribing to our blog.