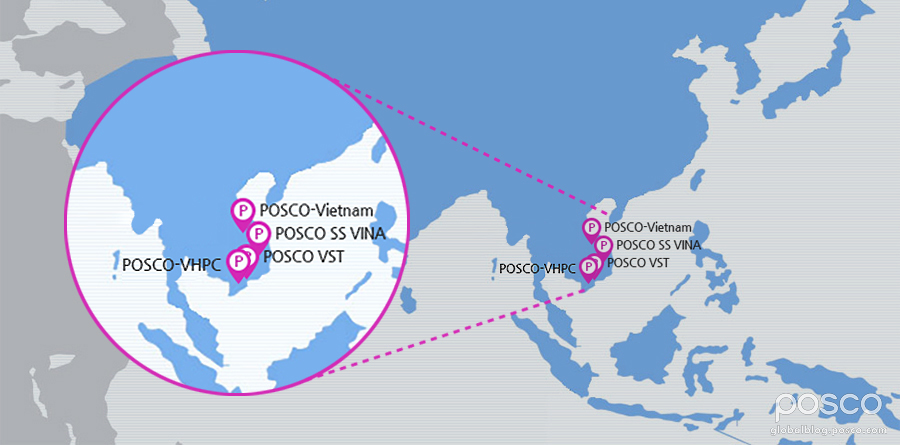 South Korean steelmaker POSCO has been steadily growing in Vietnam. Today there are 13 offices and affiliates under the POSCO Vietnam Holdings umbrella. In addition to the biggest facility in Vung Tau, POSCO's offices and facilities are located in Ho Chi Minh City, Hanoi, Hai Duong, and Dong Nai, with operations in steel manufacturing, trading and construction, and sales and technical services.
Let's take a look at POSCO Vietnam's operations, with a focus on its three biggest ventures there: POSCO-VHPC, POSCO-VST and POSCO SS VINA.
Constant Growth for POSCO-VHPC
POSCO-VHPC (Vietnam Ho Chi Minh Processing Center) is responsible for machining, marketing and merchandizing the cold-rolled and stainless steel products of POSCO-Vietnam and POSCO-VST. Since starting operations in March 2008, POSCO-VHPC has seen impressive growth, with sales jumping from 136,000 tons in 2012 to 314,000 tons in 2015.
"We believe our operational know-how will lead us to our ultimate goal of becoming Vietnam's No. 1 logistics and manufacturing business," said Jung-min Jung, head of the carbon steel sales department.
POSCO-VHPC is also proud of its many philanthropic activities in Vietnam, working with the vision impaired, providing food to those in need, and running a variety of cultural programs.
"The repair team volunteers at a nearby shelter for the visually impaired," points out Daeheon Jung, principal administrative officer at POSCO-VHPC. "We also run a soup kitchen for local residents. And to improve our organizational structure we operate a variety of events, like running an in-house library, annual team-building trips, cultural activities with employees' families and Korean and English classes."
POSCO-VST: Making the steel for people's everyday lives

POSCO-VST (Vietnam Stainless Steel) is the production facility that produces all the stainless cold-rolled products—150,000 tons of 2B cold-rolled stainless, 75,000 tons of BA and 10,000 tons of precision materials.
2B? BA? "In a nutshell, 'BA' makes the steel bright, and 2B makes it dark," explains Jaetak Bae, overseas president of POSCO-VST. "Depending on the heating methods, the way of surface treatment also differs. BA is related to high gloss. We use BA to make parts for mobile phones, most notably the USIM card."
"POSCO-VST is currently aiming for 60 percent of the domestic market and 40 percent of the export market," Bae continued. "Stainless is a material that can be used to make a variety of items, such as refrigerator containers, special containers and the roofs of buildings. As it can be easily found in our everyday lives, dominating both the domestic and exports markets is critical to achieving high profitability."
In addition, POSCO-VST is looking to work with Vietnam's stainless steel industry. Recently, it joint-hosted a seminar with the Vietnam Steel Association in Ho Chi Minh and Hanoi, exploring trends in the stainless steel industry. "The seminar was more than just a forum for sharing information," said Bae. "It was a great opportunity to improve production and awareness of POSCO-VST and promote demand for stainless steel."
POSCO SS VINA gets international recognition

Established in 2010, POSCO SS VINA is younger than POSCO-VHPC and POSCO-VST, but that means it also has some of the most modern facilities. The main products of POSCO SS VINA are section steel, iron bar and billet. In fact, this was the first time POSCO ever tried producing section steel and iron bar, so securing technical skills and competitiveness was a major goal.
"There were a lot of complications for Korean companies' steel to enter Vietnam's steel market in the beginning," said Taeju Lee, overseas president of POSCO SS VINA. "However, now our technique has been internationally recognized, which has enabled us to export to Korea, and expand in the Vietnam market."
---
A Q&A with POSCO Vietnam Employees

For POSCO, working closely with the people of Vietnam is an essential part of its operations there—which is why POSCO takes pride in its close relationships with the local employees. Go capture a sense of POSCO's relationship with its Vietnamese employees, we talked with five of them about their experiences with and feelings about POSCO.
Q: What does 'POSCO' mean to you?
Bich: The word "professional" comes up to my mind. When I see my colleagues, every single person has a specialty of their own. I always learn a lot from their continuous efforts at self-improvement.
Khoa: As Vietnam's economy is quite active and has high growth potential, it is very important for each individual to possess "business skills" for what they do. POSCO has many great support programs, enabling employees to build a variety of skills.
Thao: POSCO is my first job. The company supports us on many different levels, which makes me feel proud to be working here.
Q: POSCO has five elements to its brand identity: Co-prosperity, Enrichment, Fundamentals, Inspiring and Trust. What do you think describes POSCO the best?      
Sang: "Inspiring", because POSCO strives to find new things be inspiring.
Trung: I think "Trust" best describes POSCO. If we try to build trust before we establish a new relationship, I think the potential to develop together also grows. For example, if I can't trust my colleague, it would be hard to achieve anything. But if we trust each other, we will definitely find the power to do anything.
Q: If you were to describe POSCO in one word?
Khoa: "Huge." I feel like POSCO has a lot more than the physical greatness. When Vietnam's infinite growth potential meets POSCO, it will be more powerful.
Thao : "Challenge." Everything I do at POSCO is challenging and those tasks give me the power and passion to try new things.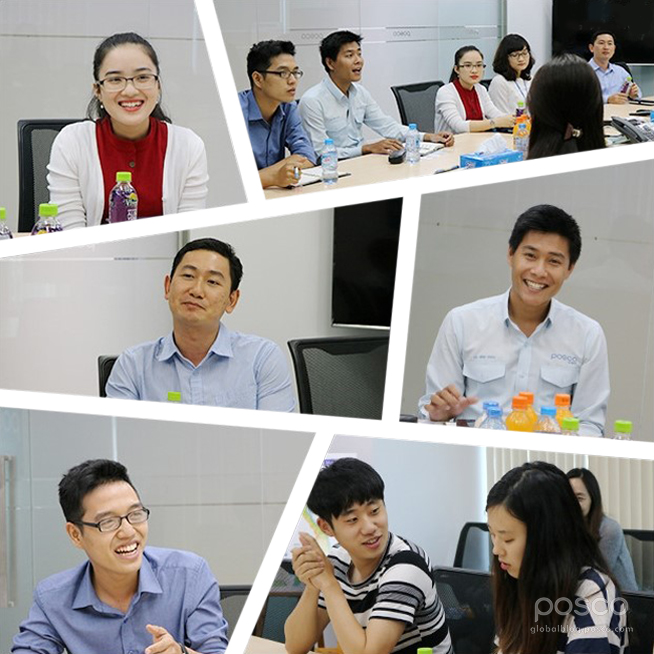 ---
For nearly a decade, POSCO has been one of the major steel leaders in Vietnam, creating a variety of products people need throughout their everyday lives. Today, POSCO-Vietnam is thriving, thanks to the highest-quality steel products and close relationships with the people of Vietnam.
Be sure you never miss any of the exciting steel stories from The Steel Wire by subscribing to our blog.