POSCO ranked 40th in the 2016 Global 100 Most Sustainable Corporations in the World Index, which was announced on January 21 during the World Economic Forum (WEF), also known as Davos Forum. POSCO is the only steel company in the world to make the list.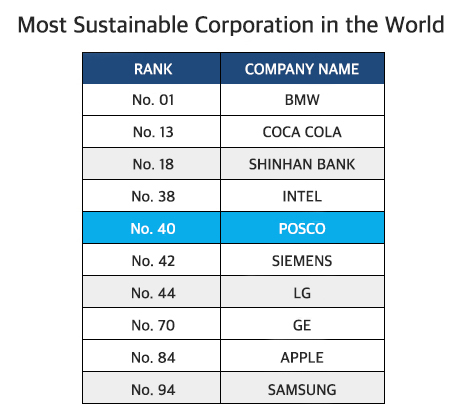 Since 2005, the WEF has released the Global 100 Most Sustainable Corporations in the World Index (Global 100 Index) through Corporate Knights, the Canada-based media and investment advisory company. In the belief that corporate competitiveness and sustainability involve not only a company's financial performance but also its contribution to environmental and social sectors, corporations are evaluated across 12 "key performance indicators" and ranked accordingly.
Receiving favorable evaluations in R&D innovation, energy efficiency and governance index, among others, POSCO maintains its leading position in the domestic manufacturing industry. Among Korean corporations, Shinhan Bank (18th), LG Electronics (44th) and Samsung Electronics (94th) also made the list. Meanwhile, BMW, the German automobile company, came in first while other global conglomerates such as Coca Cola (13th), Intel (38th) and GE (70th) followed.
Being selected as one of the top 100 corporations in 2016 is significant, as there were many difficulties in the market last year, including global oversupply, slumps in major industries and strengthened import regulations in export destinations. Furthermore, structural regulation was conducted for financial structure improvement.
Be sure you never miss any of the exciting steel stories from The Steel Wire by subscribing to our blog.