POSCO saw its consolidated quarterly operating profit exceed KRW 1 trillion for the first time in four years, dating back to the third quarter of 2012.
On October 26, POSCO held an IR session and announced a revenue of KRW 12.748 trillion, as well as an operating profit of KRW 1.034 trillion in the third quarter. Its net income amounted to KRW 475.5 billion.
As the number of its subsidiaries was reduced due to group restructuring, revenue on a consolidated basis declined by 0.9% QoQ. However, thanks to the slight improvement in the performance of the energy and ICT divisions due to the vastly improved performance of the steelmaking division, operating profit and net income increased by 52.4% and 115.6% QoQ respectively.
In particular, due to the increased sale of high value-added products and a reduction in costs, the operating profit of overseas steelmaking subsidiaries increased by 1148% QoQ to KRW 132.3 billion. The integrated steel mill in Indonesia also recorded an operating profit of KRW 38.5 billion. In addition, major overseas steelmaking subsidiaries, including the Mexico CGL, the cold rolling mill in Vietnam and the cold rolling mill and CGL in Maharashtra, India, saw their operating profits greatly increase.
The separate revenue and operating profit of POSCO increased by 1.6% and 19.6% QoQ respectively to KRW 6.106 trillion and KRW 852.4 billion. Its net income amounted to KRW 579 billion, up 86.5% QoQ.
The separate operating profit margin went up by 2.1% QoQ to 14% thanks to the increased sales of WP (World Premium) products and solutions, the higher price of steel and cost-saving efforts. It is the highest figure in 20 quarters since the third quarter of 2011.
The sales of WP products increased by 199,000 tons QoQ to 4,038,000 tons, a record high. As a result, WP products now account for 48.1% of the total sales of POSCO.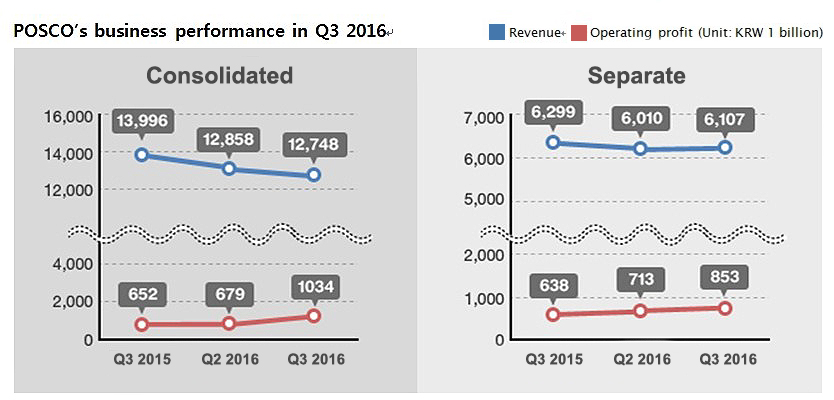 Its financial strength drastically improved as well. The consolidated debt-to-equity ratio was lowered by 5.5% QoQ to 70.4%, the lowest level since the introduction of the Consolidated Accounting Standards, and the separate debt-to-equity ratio declined by 2.3% QoQ to 16.9%, the lowest level since its founding. The debt on a consolidated basis decreased from the previous quarter to KRW 2.264 trillion, and on a separate basis, as it has more cash than loans, the net debt became negative (△KRW 829.5 billion).
Meanwhile, POSCO decided to merge POSCO TMC and SPFC into POSCO P&S in the third quarter, and slimmed down the structure of its steel distribution business. It also merged its processing centers in China and Japan to innovate the structure of its overseas steel business. All in all, POSCO completed nine cases of affiliate restructuring and eight cases of asset restructuring. POSCO is planning to finalize 24 cases of affiliate and asset restructuring in the fourth quarter of 2016, and 27 cases next year.

POSCO to Post 678.5 billion Won in Operating Profit on a Consolidated Basis During the Second Quarter
POSCO Announces First Quarter Earnings During IR Conference Call
Be sure you never miss any of the exciting steel stories from The Steel Wire by subscribing to our blog.