On November 7, POSCO CEO Ohjoon Kwon gave a keynote speech on the topic "Smart POSCO, Leading the Smart Industry Initiative" at the World Engineering Education Forum & Global Engineering Dean's Council (WEEF & GEDC) held at COEX in Samseong-dong, Seoul.
Co-hosted by the Ministry of Education and four organizations including the Korean Society for Engineering Education, this event was prepared in order to share research findings related to engineering education and how it is contributing to the development of humanity.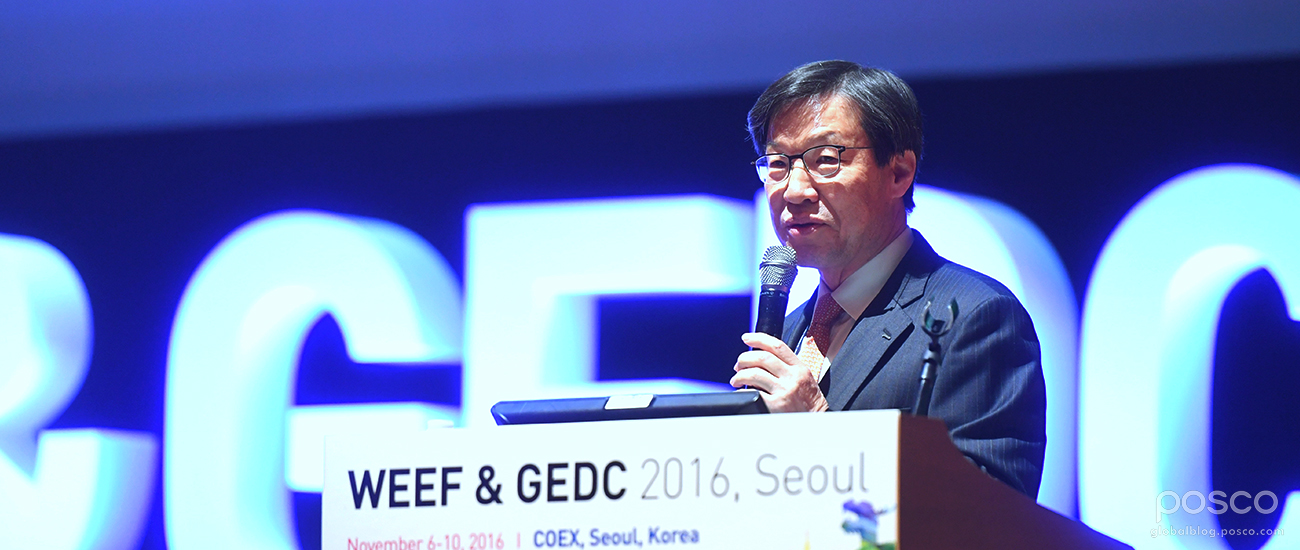 In the keynote speech, Kwon defined "smart" as: "reinforcing POSCO's competitiveness and creating new business by applying ICT to the best steel manufacturing technology based on extensive experience and know-how." He announced that POSCO is now hitting its stride in building Smart Factory, an innovation in the manufacturing business. He also explained the cases of innovation in each country in response to the Fourth Industrial Revolution that is emerging as a big issue worldwide, and emphasized that there is a need for a new industrial classification scheme in line with the changing industrial paradigm. Furthermore, he defined "smart industry" as the territory that can create new added values by seeking convergence of industries with ICT knowledge.
"Korea is a powerful nation in IT and also has a competitive edge in manufacturing, particularly in steel, semiconductors, vehicles and shipbuilding," said Kwon. "Accordingly, rather than merely increasing or decreasing the proportions of the manufacturing business, Korea should now enhance its industrial competitiveness and create a high value-added business model by applying a new form of advanced ICT and expanding to build a smart industry."
Moreover, Kwon introduced POSCO's smart solution platform PosFrame, which performs a key role in Smart Factory, and described a series of processes that can optimize self-learning and control by collecting and analyzing data within the process on a real-time basis.
With "Engineering Education for Smart Society" as its topic, the WEEF & GEDC event will be held until the 10th at COEX and KINTEX in Ilsan, Korea. This forum is for sharing research accomplishments in the industrial, academic and research sectors related to engineering education, and to discuss ways to develop engineering education with industry-academia cooperation toward realizing a smart society. This year marks the 6th anniversary of the forum since its foundation in 2011, and the first time to be held in Korea.

POSCO Looks to Internet of Things (IoT) for a Safer Workplace
POSCO's Smart Factory: A Thinking Steel Mill
Be sure you never miss any of the exciting steel stories from The Steel Wire by subscribing to our blog.