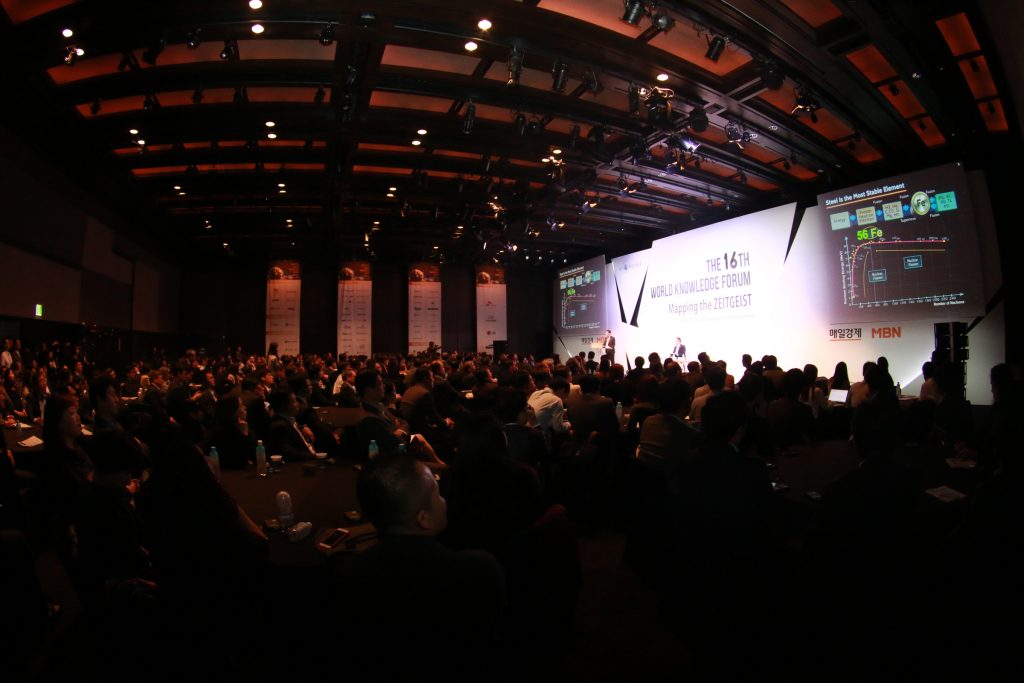 On October 20, 2015, POSCO CEO Ohjoon Kwon discussed the importance of steel during the 16th World Knowledge Forum at the Shilla Hotel and Jangchung Gymnasium in Seoul, South Korea.
This special presentation was entitled "Steel, Our Timeless Heritage" and was part of the "Promising and Futuristic Industry" segment of this year's event, which was held under the theme "Mapping the Zeitgeist." Over 250 people, from opinion leaders to university students, were in attendance during Kwon's speech, which was broadcasted worldwide via the internet and the Maeil Broadcasting Network (MBN). Kwon was the first Korean entrepreneur to give a speech at the World Knowledge Forum since its establishment in 2000.
As a CEO of a global steelmaker and a researcher in material and metal engineering, Kwon delivered enlightening insights about the role of steel in the history of mankind and the development of civilization during his 40-minute speech.
"As a researcher who has been working in the development of the steel industry and technology, I want to explore with you how steel and iron have been so close to us", Kwon remarked in the opening of the speech. "It is a known fact that 35 percent of the earth's weight is steel, and steel protects the earth from the sun by generating a magnetic field around the planet. So, steel is a special gift from God to humanity."
He also discussed how steel has allowed for many changes throughout human history, especially in warfare and during the Industrial Revolution. He presented the example of Abraham Darby, an English engineer, who, in the early eighteenth century, invented the blast furnace which subsequently allowed for the spread of high-quality, low-cost steel throughout a variety of industries. Darby's invention later made the production of iron and brass steam engines possible, thus enabling the Industrial Revolution.
Kwon also added, "In terms of economic benefits, it is abundant, cheap and recyclable. It provides energy to all living creatures. Just like steel played a major role in three Industrial Revolutions (first, the steam engine; second, electricity and third, the globalization of computer technologies), steel will continue to play an essential role in achieving technological convergence in the upcoming smart age."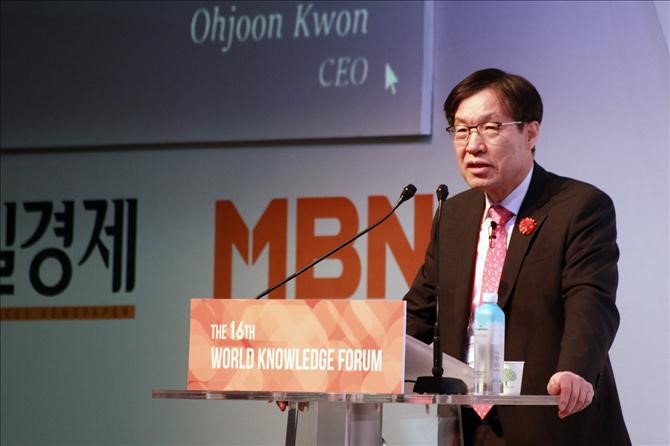 ▲ In his speech, CEO Kwon noted, "It is believed that steel can do even more to fulfill our dreams as we move forward into a brighter future."
Kwon ended his speech stating, "Steel has consistently shaped the way of life, history and thoughts of mankind since its initial introduction to us in a meteorite. It is believed that steel can do even more to fulfill our dreams as we move forward into a brighter future."
Following his speech, Kwon participated in a Q&A session with Professor Michael Pich, Dean of Executive Education at INSEAD Singapore. Pich asked Kwon to explain the main elements of POSCO's World Premium products and reflect on what other industries might learn from this. Defining World Premium products as high-value added products, Kwon responded that despite, the cut-throat competition of the present-day steel industry, "POSCO generates profit through the expansion of sales of WP products." He also noted that all industries—not just the steel industry—should develop highly-advanced technologies to lower production costs and improve the quality of manufactured goods.
Hyukjin Nam, a student at Yonsei University asked, "I saw Renault Samsung's concept car 'Eolab,' which incorporated various POSCO technologies. I'd like to know what steel can offer to the automobile industry in the future." Kwon replied, "Automobile technologies are evolving faster than ever. Now the world is entering an era of electric vehicles which don't emit carbon dioxide. In regards to materials, aluminum, which weighs only one third of steel, is becoming popular. POSCO is focusing on producing lightweight cars by developing materials such as giga steel and magnesium sheets, which are cheaper but three to five times stronger than aluminum."
Sungjae Im of Hyundai Mobis also had questions for Kwon, asking, "What are the limits of steel and what are the visions and response strategies of POSCO?" CEO Kwon answered, "Fifty percent of the world is still developing and requires steel, so I expect that steel will have competitive positioning for the next hundred years. POSCO will not settle for the present but strive to further develop new businesses in materials, energy and infrastructure, utilizing the competitiveness of steel."
The 16th World Knowledge Forum, which was hosted by Maeil Business Newspaper, invited world renowned scholars and leaders including Tony Blair, the former UK Prime Minister, Timothy Geithner, the former US Secretary of the Treasury and Paul Kennedy, a professor at Yale University.
Established in 2000, the World Knowledge Forum is the biggest global business forum in Asia. It aims to highlight the importance of knowledge sharing toward a balanced prosperity of the global economy. It gathers the world's most distinguished global leaders in business, government and academic sectors and encourages discussion on the importance of knowledge sharing in today's complex, global business environment.