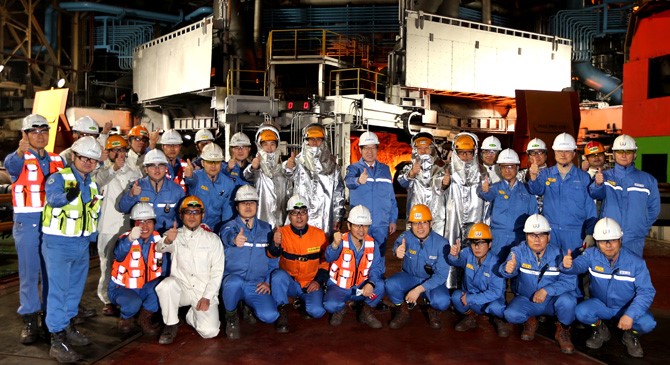 Dear beloved POSCO family,
The year 2016 has dawned upon us. I wish you a happy and healthy 2016. May the new year be one full of joy, where all your wishes and dreams come true.
Happy New Year!
Dear POSCO family members!
Unfortunately, the local business environment is predicted to decline in 2016.
We anticipate additional challenges to our overseas operations, especially in emerging countries where economic recession is highly likely to persist. Moreover, it has become extremely difficult for us to survive without revamping our current business strategy as we face Japan's cost competitiveness stemming from its reduced currency value and China's faster-than-expected technological advancements.
Therefore, I would like to sincerely request that we focus all our efforts towards accelerating "Structural Innovation" in 2016, and break the static mold of old business conventions on operation, cost, profit and consciousness.
First of all, we need to innovatively restructure our Group's businesses from a perspective of profitability.
Until now, our restructuring initiative has focused on improving financial structure. This year, however, we must carry out thorough restructuring in terms of profitability by eliminating any latent financial issues that may emerge.
Second, we need to improve our current high-cost and inefficient operating structure.
Under the current period of low-margins, it is necessary to improvise our operations to perform under an extremely low cost structure. This transition to low-cost and highly efficient structure should apply to all the functions of the Group including procurement, production, R&D and management. Low-profit and inefficient facilities must all be closely scrutinized to find the most optimal solution, including idling of such facilities. IP projects must be augmented and systemized to accelerate elimination of inefficiencies.
Third, we should also spur our innovations in our revenue structure.
The marketing division needs to implement advanced Solutions Marketing to enhance customer satisfaction. Meanwhile, the R&D and production divisions should seamlessly interconnect with the sales teams to support the expansion of World Premium (WP) product sales.
As for our overseas affiliates that urgently require improvements in profitability, it is important for them to undergo innovative restructuring, strengthen Solutions Marketing and coherently execute cost-savings initiatives.
The significance of breaking away from the conventional captive revenue structure and reinforcing differentiated competitiveness cannot be emphasized enough.
Finally, we must firmly establish an ethical management and a performance-based corporate culture.
Let me re-emphasize that good ethics are POSCO's most important management principle. No matter what the cost may be, the code of ethics must be adhered to and zero tolerance will be applied to any unethical behavior, regardless of offender's rank or severity of the case.
Based on this code of ethics, we will create a virtuous corporate culture that generates higher performance results through reinforcing evaluation methods and compensation.
Dear POSCO family members!
As things get more difficult, solutions must be found on-site. As long as we continue to challenge ourselves and make improvements in our production, marketing and construction sites, I have no doubt that we will overcome today's adversities in no time.
I sincerely hope that 2016 will be a year in which the whole POSCO Group and its members make great strides together.
Thank you very much!
New Year's morning.
Ohjoon Kwon, CEO
Be sure you never miss any of the exciting steel stories from The Steel Wire by subscribing to our blog.