Daewoo International announces a new name: POSCO DAEWOO
On March 21, POSCO DAEWOO (President Youngsang Kim) celebrated the launch of its new name and new corporate identity (CI) at Songdo ConvensiA Convention Center in Incheon, along with more than 1,000 employees.
Prior to the change, the company had been known as Daewoo International, since being incorporated by POSCO Group in 2010.
Presidents from POSCO Group affiliates—including POSCO E&C, POSCO Energy and POSCO ICT— attended the ceremonies, along with POSCO CEO Ohjoon Kwon and Incheon Mayor Jeongbok Yoo. The national bobsleigh & skeleton team delivered congratulatory messages on video for POSCO DAEWOO's historic first step. The event kicked off with the unveiling of the new corporate identity, followed by the presentation of the company flag, badges and employee cards.
POSCO DAEWOO vows to enhance the POSCO Group's value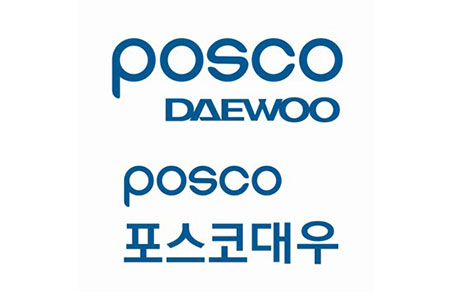 The new CI of POSCO DAEWOO (pictured on the left) displays the company's determination to lead in the globalization of POSCO Group by combining the POSCO brand, which symbolizes trust and innovation, with the Daewoo brand, which stands for the idea of "creative challenge."
"POSCO DAEWOO's new start is significant in that the unique advantages that POSCO and POSCO DAEWOO have obtained over the last half-century will be combined and embedded into the employees' DNA," said CEO Kwon in his congratulatory address. "I look forward to seeing POSCO DAEWOO take the initiative in making POSCO Group proud by enhancing the synergy of the company's global businesses as a key affiliate of the group."
"The foundation of POSCO DAEWOO is an important opportunity to solidify a sense of unity for POSCO Group, as well as to strive to create and lead the synergy of the group's overseas businesses," said President Young-sang Kim. "As employees and executives, let's all equip ourselves with POSCO DAEWOO's creative and challenging spirit, and serve as the main agents of the forward base that will develop the future value of the POSCO Group throughout the world."
POSCO DAEWOO was founded as Daewoo Industry in 1967, then renamed as Daewoo International in 2000, specializing in international trade, project organizing, and resource development. It was incorporated into POSCO Group in 2010.
The change of name to POSCO DAEWOO will help establish it as a leading global trading company. Moreover, the company plans to actively break into new global markets as a comprehensive trading company that connects value chains in all business areas based on business know-how and abundant overseas networks that have been cultivated over a long period of time.
Be sure you never miss any of the exciting steel stories from The Steel Wire by subscribing to our blog.