Gwangyang steelworks' blast furnace (BF) No. 5 has begun its second operation on June 7 after 112 days of refurbishment.
Some 200 guests attended the completion ceremony held on the same day to celebrate the occasion, where blast furnace No. 5 was lighted by POSCO chairman Ohjoon Kwon.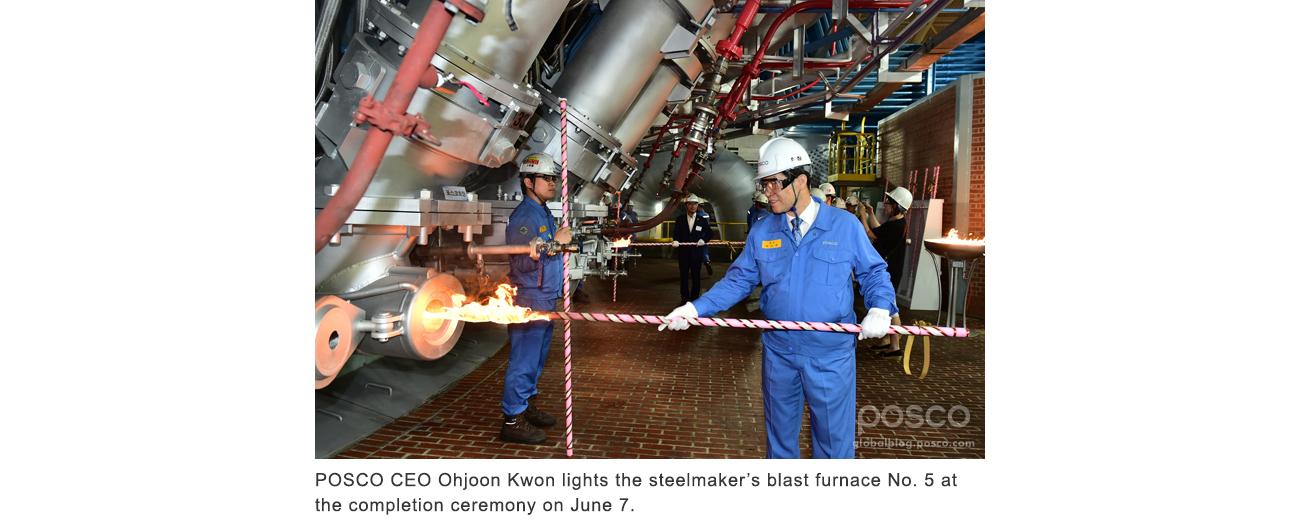 Once a blast furnace has been lighted, it does not cease operation. Instead, the firebricks of its inner wall gradually wear out.
When its lifespan eventually comes to an end, the fire inside a BF is extinguished. After that, either the main body is removed or the firebricks are replaced, while some parts of the facility are renewed. This is what we call "BF refurbishment."
Through refurbishment, Gwangyang's blast furnace No. 5 has increased its volume from 3,950 cubic meters to 5,500 cubic meters with an annual production capacity of 5 million tons of molten iron. As such, it has been reborn as the ninth largest in the world.
Additionally, its lifespan has been extended to more than 15 years, while conversely saving energy due to the installation of a facility that completely shuts off steam generated from the BF.
Further enhancements have also been made to the overall performance of the generator that produces electricity itself by using gas from the BF.
POSCO, through the safe and stable operation of the furnace, is committed to bringing it up to the standards of the world's best in terms of quality and efficiency.
With the completed refurbishment of blast furnace No. 5, Gwangyang steelworks is now operating a total of three mega BFs, including the world's largest—BF No. 1 with a volume of 6,000 cubic meters and BF No. 4 at 5,500 cubic meters—with a total annual production capacity of 21 million tons of molten iron.
Be sure you never miss any of the exciting steel stories from The Steel Wire by subscribing to our blog.