In commemoration of POSCO's 48th anniversary, POSCO Group University (Representative Director Park Kui-chan) is distributing five new subjects in the POSCO Global Teaching and Learning Kit (POSCO GTaLK) to overseas affiliates.
Over 2,300 employees in 60 overseas affiliates have received training by POSCO GTaLK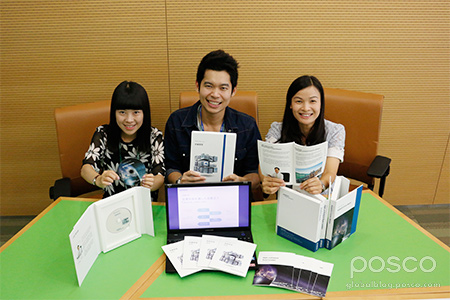 POSCO GTaLK was developed by POSCO Group University last year to provide systematic support and training materials for overseas employees to strengthen their Human Resource Development (HRD) competencies.
In July last year, POSCO Group University developed 18 essential subjects—including management philosophy, leadership, the steel-making process and product knowledge—required for all POSCO employees, and distributed them to 60 overseas affiliates in three languages, English, Chinese and Japanese.
POSCO Group University has trained 82 local in-house instructors who will teach POSCO GTaLK contents at overseas affiliates. While instructors learned POSCO's management values and will help disseminate those ideas to each affiliate, employees of the regional Technical Service Centers (TSC) taught about various products to their neighboring affiliates. All told, over 2,300 overseas employees received training from POSCO GTaLK last year.
Marking the anniversary of POSCO's founding, five new subjects were added to the POSCO GTaLK Program on April 1
The five new subjects added on April 1 were Founding Spirits, Ownership, Understanding Iron and Steel, Stainless Steel (STS) and Coated Steel Sheets.
Among those new additions, Founding Spirits and Ownership are especially notable. "Founding Spirits" is designed to help POSCO employees understand POSCO's unique spirit and founding philosophy of contributing to national economic development by means of steel production. "Ownership" has customizable contents that reflect the training needs of the various overseas affiliates.
POSCO Group University plans to distribute the contents to each affiliate via email first and then upload on the HRD Portal later. Moreover, by June, an additional five leadership-related subjects will be developed and distributed to global affiliates, as a package along with teaching plans and instructor manuals. After the introduction of all these new units, POSCO GTaLK will consist of 28 subjects in three categories: POSCO values, product knowledge and leadership.
POSCO Group University is focused on spreading POSCO's management philosophy by strengthening training programs at overseas affiliates. In addition, it plans on providing special training guides for local instructors to enable them to directly operate new employee and job training programs in regional affiliates.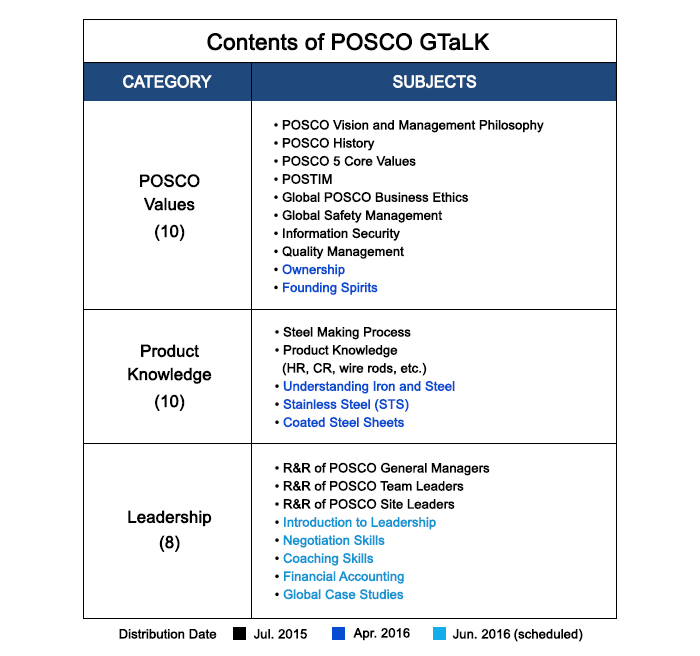 Be sure you never miss any of the exciting steel stories from The Steel Wire by subscribing to our blog.