POSCO E&C recently signed a $650 million EPC (Engineering, Procurement & Construction) contract with AES Corporation, a U.S.-based power company, to construct a combined cycle power plant (CCPP) and a gas terminal in Colon, Panama.
POSCO E&C constructs combined cycle power plant and gas terminal in Colon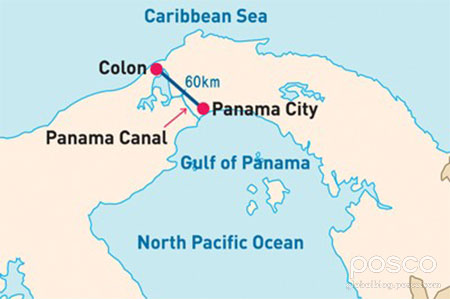 The power generation capacity of Colon CCPP—380MW—is the largest in Panama. The plant is located in Colon, which lies near the Atlantic entrance to the Panama Canal and is about 60km north of Panama City, the capital of the country. POSCO E&C will also construct a gas terminal with a storage capacity of 180,000㎥. Power produced from the Colon combined cycle power plant can be supplied to around 15 million households simultaneously, which will ensure a stable supply to the industrial complex near the Panama Canal and Colon area.
Despite weak global economic conditions, POSCO E&C achieves total value of $5.6 billion in Latin America within 10 years
POSCO E&C has been highly praised for the proven quality of power plant construction technology in Latin America over the past decade. The company was awarded the contract after a fierce competition with prominent EPC companies.
Despite tough market conditions, including low oil prices, POSCO E&C clinched the deal following a series of orders won in the Philippines and Chile last December. This achievement is expected to solidify POSCO E&C as one of the major players in the energy plant market in the Latin American region.
Meanwhile, POSCO E&C made its first inroad into Latin America in 2006, with the construction of a coal-fired power plant (CFPP) in Ventanas, Chile, which was awarded by AES. It was the first time for a Korean construction company to build a power plant in Latin America. Since then, POSCO E&C have successively won construction contracts of Campiche and Angamos CFPP in Chile (2007) and Kallpa and Chilca Uno CCPP in Peru (2009), achieving a total value of $5.6 billion in Latin America over 10 years.
Be sure you never miss any of the exciting steel stories from The Steel Wire by subscribing to our blog.