POSCO Daewoo has begun exporting its intelligent patrol cars to Peru and held a ceremony to mark the first shipment of the vehicles on May 30 at the Port of Pyeongtaek, South Korea.
Of the total volume of the 2,108 cars to be exported, 408 units were loaded under the Government to Government (G2G) contract signed by POSCO Daewoo, the Ministry of the Interior of Peru and the Korea Trade-Investment Promotion Agency (KOTRA) in December of last year.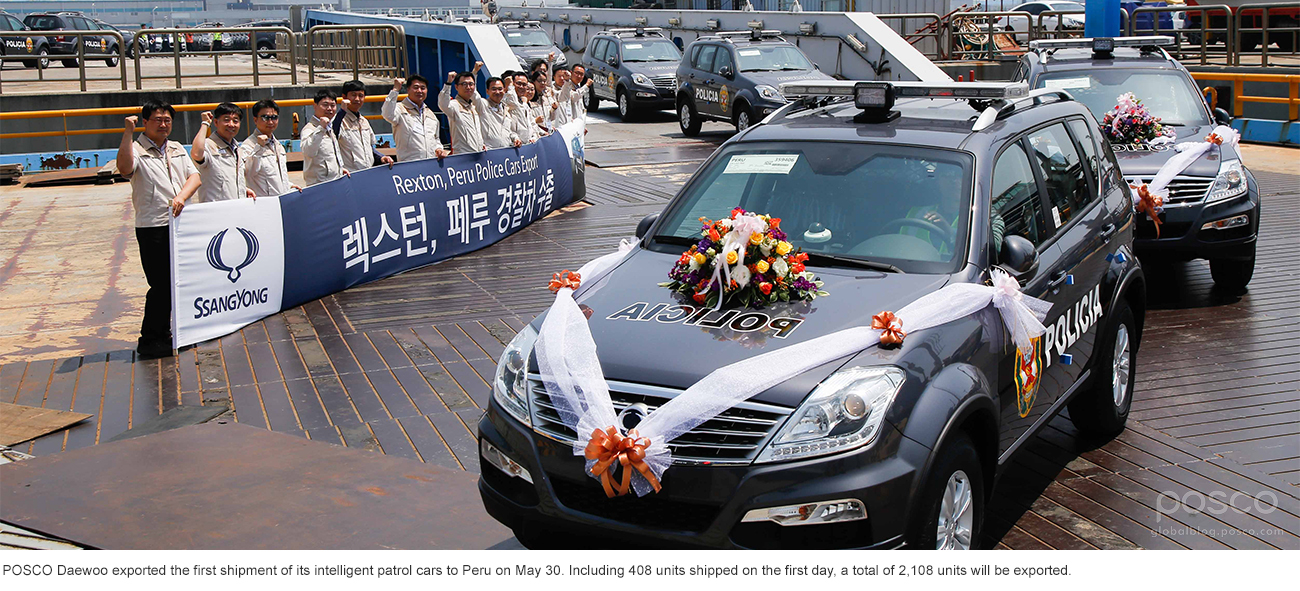 The intelligent patrol cars supplied to the Peruvian government are equipped with a communication system which allows for the direct sharing of real-time data from the field with the central control center of the Peruvian National Police.
POSCO Daewoo's business of exporting intelligent patrol cars to Peru has been realized as the company has made localization efforts, offering technical support that meets local needs, building maintenance depots and supplying parts. POSCO Daewoo exported around 800 units in 2013 as part of the first export project.
POSCO Daewoo provides additional services in nine Peruvian cities including supplying equipment for building maintenance depots, parts for maintenance of patrol cars and engine oil. It also recruits local technical personnel and offers technical training through special equipment companies.
As the supplier under the contract, POSCO Daewoo will provide the Ministry of the Interior of Peru with 2,108 patrol cars by September. The vehicles will be used in 17 cities.
POSCO Daewoo is the largest police equipment supply business in Korea. The company looks forward to making additional business contracts with the Peruvian government and to further expanding its market into Central and South America
Be sure you never miss any of the exciting steel stories from The Steel Wire by subscribing to our blog.