POSCO signed a memorandum of understanding (MoU) on strategic cooperation with Renault Samsung Motors on October 8, 2015. With the agreement, POSCO is to supply competitive, high quality materials for automobiles to Renault Samsung Motors, and Renault Samsung Motors is to expand technical cooperation with POSCO in relation to the development of high strength steel sheet and the application of new materials. Additionally, both parties agreed to raise global competitiveness through the reinforcement of the strategic partnership.
Held at POSCO Center in Seoul, South Korea, the signing ceremony was attended by interested parties from both companies including In-hwan Oh, POSCO's Head of Steel Business Division, as well as Francois Provost, President of Renault Samsung Motors.
Oh noted, "When Renault Samsung Motors—which is taking the lead to overcome the recession through innovation—and POSCO are partnered together, both companies will be able to make fruitful development, creating win-win situations." He also suggested strengthening cooperation in various areas such as production, technology and marketing.
Provost agreed, stating, "POSCO is the best partner with the most advanced technology and innovation, and this agreement will be the foundation for strengthening an already friendly relationship and solidifying the strategic partnership between POSCO and Renault Samsung Motors."
Renault Samsung Motors plans to produce a new line of vehicles in 2016, which consists of a range of midsize to full-size sedans, as well as midsize SUVs. As such, a constant demand for POSCO's steel products is to be expected. The new vehicles will use POSCO's high strength steel sheet for exterior plating and TWB-HPF multiple processing technology will be applied for the first time in Korea, taking the weight reduction of cars to an unprecedented level.
POSCO and Renault Samsung Motors have worked together in researching the latest technologies by applying magnesium sheets to mass produced cars for the first time in the world, and developing a liquid petroleum gas (LPG) donut tank for the first time in Korea. In doing so, the two companies are raising the competitiveness of the local automotive industry through the improvement of quality and development of materials for future vehicles. Furthermore, POSCO aims to provide more value to Renault Samsung Motors by reinforcing its Solution Marketing for world premium products.
Meanwhile, POSCO is supplying steel sheet metal to the world's top 10 carmakers. Since the late 1990s, POSCO has developed the global auto plate market and expanded overseas production and sales networks, growing as a global steelmaker with an annual production capacity of 8.3 million tons. POSCO plans to achieve sales of 10 million tons by 2018 by strengthening its partnerships with major global carmakers and expanding the sales of world premium products based on Solution Marketing.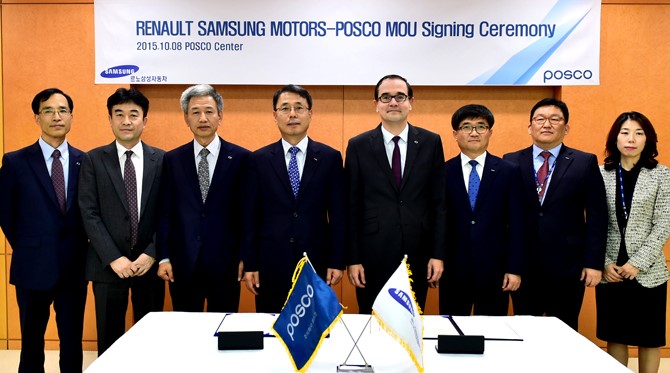 (POSCO and Renault Samsung Motors singed an MoU for strategy cooperation at POSCO Center on October 8, 2015. Head of Steel Business Division, In-hawn Oh (fourth from left) with Francois Provost (fifth from left), President of Renault Samsung Motors.)