This month's theme has focused on the sustainability of steel. POSCO is committed to ethical business practices that minimize negative environmental impact and contribute a healthy planet for the future. Most recently, POSCO contributed 25,968 tons of certified emission reduction (CER) to the Pyeongchang Organizing Committee of the 2018 Olympic Games to fight the generation of harmful greenhouse emissions. In December 2015, POSCO Energy won a competitive international bid to enter the Republic of Botswana to operate power plants and reduce the emissions of pollutants such as nitrogen oxides and sulfur oxides. Additionally, POSCO teamed up with the Research Institute of Science and Technology (RIST) and the Korean government to lead an initiative to promote marine forestation in damaged waters.
In addition to projects that directly affect the health of the environment like these, POSCO steel is also used in a number of sustainable buildings and structures around the world.
Beijing POSCO Center
On November 11, 2015, POSCO celebrated the completion of the Beijing POSCO Center in the Wangjing district of Beijing. The total construction time lasted just three years, and was accident-free. Built to be the headquarter location of POSCO China and to promote a sense of community between the Korean company and the Beijing local businesses. The Beijing POSCO Center includes two buildings, A Tower with 33 floors and B Tower with 25 floors. Three years of accident-free construction
The building is eco-friendly, including an automatic air cleaning system, a sunlit lighting system and an automatic temperature/humidity control system. The Ice Thermal Storage system produces ice that is stored overnight, then used for air conditioning during the day, maximizing energy efficiency. The Beijing POSCO Center received the "Green Construction Certificate 3 Stars" award, the highest building environment certification, from the Chinese government.
POSCO Center, Teheran Road
POSCO Center is an "intelligent building" and a landmark of Teheran Road. POSCO Center was opened as Korea`s first intelligent building; its groundbreaking took place in January, 1992. The building is completely digitalized and automatically adjusts temperature, humidity and lighting. In the summer, curtains close automatically to block the sun and in the winter, the building automatically responds to the cold. Its architectural design eliminates wasted space and technology guarantees maximized energy efficiency.
POSCO Center is open to the public, and the Atrium connecting the two complexes of the building is used as a public plaza. Opened 20 years ago, the POSCO Center is still modern, technologically advanced and eco-friendly.
Turkmenistan Mary Filtration Plant
POSCO Engineering and Turkmenistan's local construction company, Chakmak Dashy, are working together to construct the Mary Filtration Plant, in Mary City in Turkmenistan.
Supported by the Mary state government of Turkmenistan, the plant construction project will demolish the existing filtration plant and construct a new filtration plant of 120,000 m3 and a water intake station of 240,000 m3.
This project, which is part of the global water environment industry, is the result of POSCO's continuous efforts to secure contracts in water supply, drainage systems and water treatment.
POSCO Green Building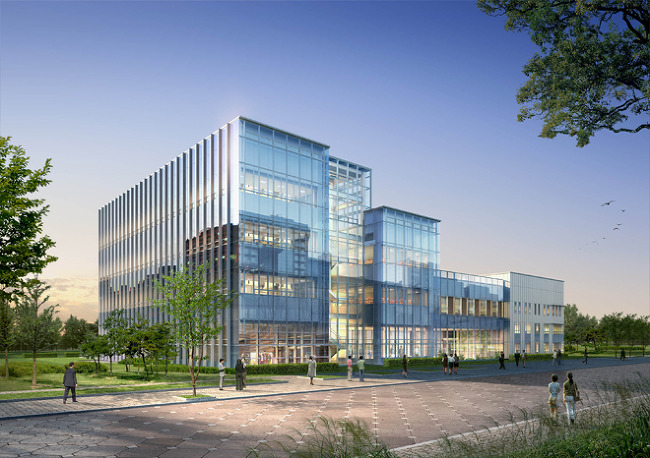 The POSCO Green Building is a future building, which applies environmentally friendly and energy reduction technology, located on the Yonsei University International Campus located in Songdo, Incheon. It was completed as part of a project that aims to present a new approach to domestic green building construction and consider environmentally friendly and low energy processes, from design and construction to operation and disposal.
More than 100 green technologies including solar power, geothermal air-conditioning and heating are used, optimizing energy performance by 30 to 100 percent compared to other existing buildings. Approximately 35 percent of the energy required by the building is self-generated, using renewable energy.
Energy reduction materials developed by POSCO were largely used in the building construction, including a steel curtain wall which boasts the best domestic insulation and vacuum oscillation which increases heat retention. In addition, self-cleaning steel plates were used for the building's exterior walls. These steel plates have a 30 percent longer lifecycle than regular steel plates. POSCO plans to utilize the Green Building as a model for energy-reduction homes.
North East Asia Trade Tower
Construction of the North East Asia Trade Tower (NEATT), a large-scale complex made up of offices, a hotel and restaurants, was completed in Songdo, Incheon in July 2014 by POSCO Engineering & Construction. The structure serves as a model of sustainable design strategies, carefully balancing energy conservation, increased indoor environmental quality and occupant comfort.
The exterior glazing allows for abundant daylight penetration and expansive views (which are especially impressive from the observation platform on the 65th floor). Exterior shading devices and a high performance glazing specification work together to limit solar heat gain and reduce air conditioning costs. Operable windows allow for smoke exhaust, while small LED lights are embedded into the exterior outriggers, greatly reducing the energy spent on lighting the building at night.
Be sure you never miss any of the exciting steel stories from The Steel Wire by subscribing to our blog.