With local employees comprising an average of 97 percent of the workforce in POSCO's overseas affiliates, ensuring they have the appropriate technical skills is vital for product quality and profitability. But while POSCO has supported training in many production-related fields, like facilities management, it also knows that each facility and each country has unique needs.
That is why POSCO has developed a technical education program that trains local employees to train others, so each foreign corporation can promote the skills and technical personnel that it requires. We call those people seed technology instructors*
From April 25 to 27, two engineers from China's Qingdao Pohang Stainless Steel Co., a manufacturer of STS cold-rolled products, came to POSCO Group University in Korea for training.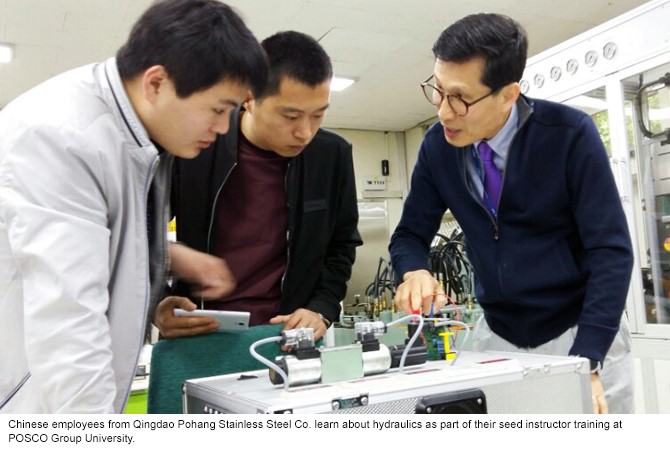 These trainees were selected for a range of talents, including on-site experience and their capability to become instructors. In order to increase the effectiveness of the short, three-day training period, POSCO gave the trainees one-on-one lessons in being a mentor and provided hands-on training in theory and practice, utilizing top-of-the-line educational equipment.
Once their training finished, they returned to China as technical field instructors, where they will teach others the skills that they learned.
Coming up, many more local employees from other overseas locations will also be coming to Korea for training. Employees from Myanmar will come for seed instructor training in July, and others from Vietnam will come in August, plus video lectures for five corporations have been scheduled throughout 2016.
POSCO Technology Education Group will promote seed instructors and lay the foundation to enable international affiliates to implement their own technology training through a variety of ways, including:
support for textbooks,
video lectures in technical fields, and
giving lectures in local offices.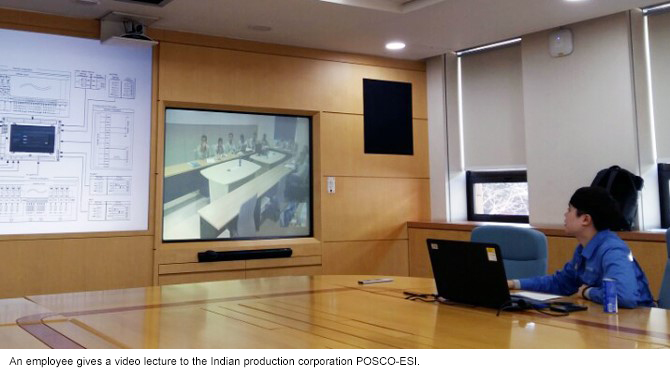 In addition, the Technology Education Group has made 23 English-language technology field textbooks for 15 overseas production corporations, including POSCO Maharashtra (India) and POSCO-VST (Vietnam). At POSCO-Malaysia, they used the English textbook to better respond to equipment failures, and in POSCO Krakatau (Indonesia) they have been using it to improve the technical skills of their local employees.
POSCO plans to actively support the development of local employee skills by creating technical training programs customized for each local corporation.
---
*The seed technology instructor program selects excellent individuals from POSCO's global affiliates and trains them to become instructors, so that each of POSCO's overseas corporations can independently provide technical training to its employees.
Be sure you never miss any of the exciting steel stories from The Steel Wire by subscribing to our blog.