On February 10, POSCO CEO Ohjoon Kwon visited POSCO ESM's (POSCO Energy Storage Materials) cathode materials factory located in Gumi, South Korea, to personally inspect the production status and shipping processes. Since his nomination to serve a second term as POSCO CEO, Ohjoon Kwon has shown his commitment to strengthen and reinforce POSCO's non-steel business ventures.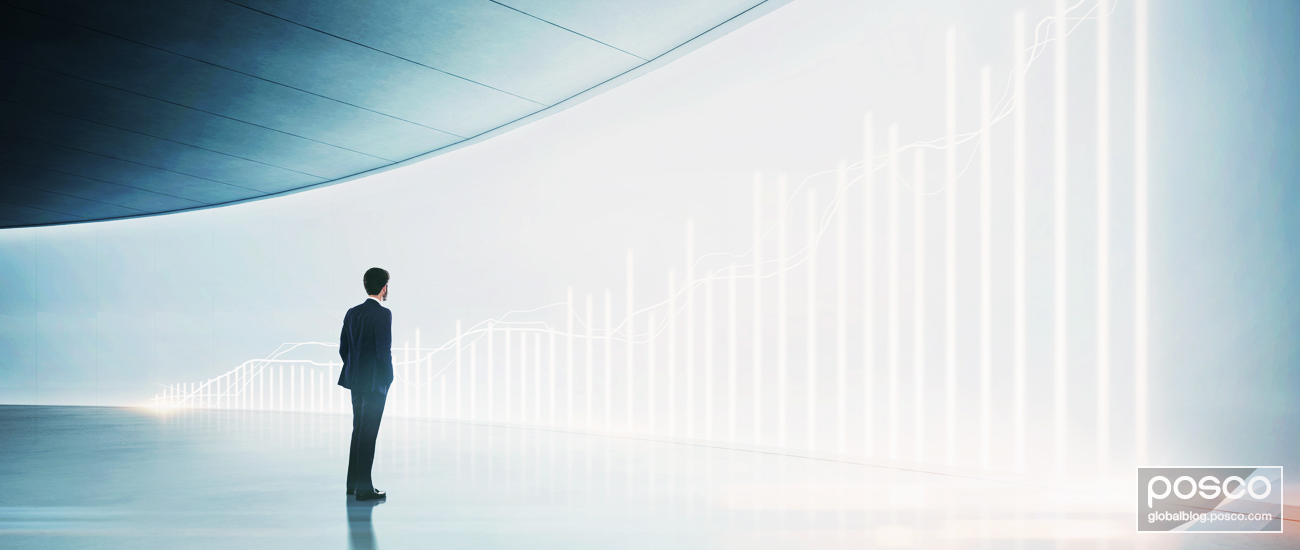 POSCO ESM produces cathode materials, which are essential for the manufacturing of secondary batteries for portable IT devices such as electric vehicles, laptops, and cell phones. Since last month, it succeeded in mass-producing 'PG-NCM' (POSCO Gradient Nickel Cobalt Manganese), the high-capacity cathode material for low-speed electric vehicles.* They have also been supplying these materials to LG Chem. Presently, POSCO ESM is focused on  producing  general cathode materials.
During his visit to the factory, POSCO CEO Ohjoon Kwon emphasized POSCO's commitment to the secondary battery material business saying, "The cathode materials produced by POSCO ESM are essential for the secondary battery material business of POSCO, and we are planning to invest an additional KRW 300 billion in the cathode materials business until 2020."
To expand the secondary battery business, POSCO acquired a 75.32% stake in POSCO ESM by issuing new stocks last January. By securing the management rights of POSCO ESM, they have laid the foundation for transforming it into a specialist for producing secondary battery materials for electric vehicles.
Despite entering the cathode materials market as recently as 2012, POSCO ESM is currently one of the only two companies in the world that can produce high-capacity cathode materials with 80% or more nickel (NCM type).
In addition to the large-capacity batteries needed for IT devices, the demand for industrial energy storage systems (ESS) for electric vehicles is increasing as environmentally-friendly policies continue to take shape around the world. The size of the global secondary battery market is expected to grow from USD 29.3 billion in 2016 to more than USD 44.2 billion by 2020.
Together with RIST (Research Institute for Industrial Science & Technology) that has research competencies in lithium, nickel, titanium and carbon, POSCO plans to capitalize on the technologies it has developed over the last 50 years to actively transform high-yield businesses such as magnesium and nickel smelting and expand its future growth options.
※ Overview of POSCO ESM
Date of establishment: March 2, 2012
HQ and factory: Gumi, North Gyeongsang Province
Business: Manufacture and sale of lithium ion secondary battery cathode and anode materials
Equity structure: POSCO 75.32%, Phoenix Materials 24.68%
※ PG (POSCO Gradient)-NCM (Nickel Cobalt Manganese)
If the nickel content exceeds 60%, the cathode material is classified as a high-capacity cathode material. PG-NCM is a product that increased the nickel content to 80% and secured thermal stability by applying POSCO's proprietary gradient technology to design the composition of the center and surface of the cathode materials differently, thereby meeting the safety requirements of electronic devices and electric vehicles.
Don't miss any of the exciting stories from The Steel Wire – subscribe via email today.