POSCO Group University held the first Global Leader Development Program (G-LDP) of 2016 from May 9 to 13 in Songdo, Korea. Thirty-nine employees from overseas affiliates were in attendance. These participants, who are all at the managerial level or higher, are candidates for leadership positions in the future.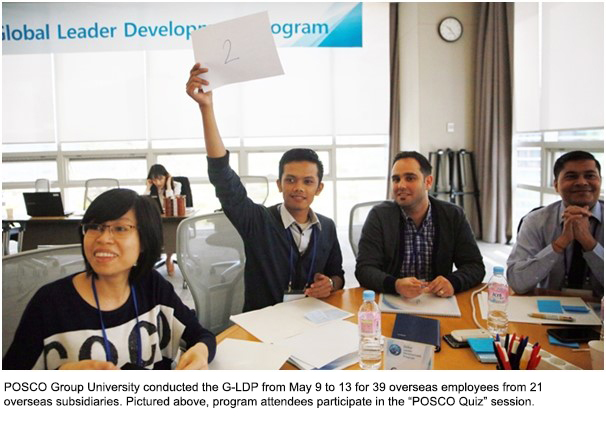 G-LDP is a training program that aims to cultivate leadership skills for next-generation global leaders. Competent managerial-level employees that show potential to play a leading role in building up POSCO the Great at global business sites are selected from overseas subsidiaries to participate.
Since it was first established last October, the program has successfully trained 50 overseas employees from English- and Chinese-speaking countries to become prospective global leaders.
Thirty-nine participants from 21 subsidiaries in nine English-speaking countries participated in the session this month.
What was particularly special about this past session was its adoption of "flipped learning" to maximize the training effect.
Flipped learning is a pedagogical model in which learners view online lectures before attending discussion-oriented offline classes.
Each employee gained theoretical knowledge, and drafted leadership- and finance-related business cases before their offline classes commenced in Korea. This was accomplished by POSCO Group University's utilization of its HRD portal (e-campus). Here, online activities such as advanced e-learning, reviewing lecture content and performing tasks were assigned to learners remotely.
When participants reached Korea, they were able to build upon this knowledge and further develop their leadership skills by attending programs including competency improvement training and discussions.
Apart from attending leadership training sessions, the participants also visited the POSCO Center and Gwangyang Steel Works. These visits helped to fuel their pride and esteem in POSCO, as well as expand their personal network by meeting former Korean expatriates who are now back in Korea.
The second G-LDP of 2016 will take place in September, with about 40 employees from China expected to be in attendance.
Be sure you never miss any of the exciting steel stories from The Steel Wire by subscribing to our blog.