POSCO completed the construction of the Beijing POSCO Center on November 11, establishing a foothold for business expansion in the Wangjing district of Beijing, China, an area concentrated with numerous global companies and local IT businesses such as Benz, Microsoft and Alibaba.
The completion ceremony was attended by over 100 interested parties of both countries, including CEO Ohjoon Kwon, Taehyun Hwang, CEO of POSCO E&C and Jiang Xiaoyu, Vice President of the Beijing Organizing Committee.
After three years of construction starting in 2011, the Beijing POSCO Center is composed of two buildings: A Tower, with 33 floors, and B Tower, with 25 floors. The center has a gross floor area of 162,000 square meters and a site area of 20,000 square meters.
The Beijing POSCO Center incorporates human-oriented designs, such as glass exterior walls that allow for maximum sunlight and elevators that look out over the exterior, to create a convenient and pleasant environment.
Other noticeable features are the building's eco-friendly systems including an automatic air cleaning system, a sunlight lighting system and an auto temperature/humidity control system. The Ice Thermal Storage system, which produces ice for storage at night and utilizes it for air conditioning during the day, maximizes the energy efficiency of the building. Recognized for its high energy efficiency, the Beijing POSCO Center received the "Green Construction Certificate-3 Stars" accolade, the highest level of building environment certification, from the Chinese government in November last year.
The Beijing POSCO Center will house various commercial and convenience facilities such as a bank, a hospital, restaurants, a fitness center and meeting rooms on the first and second floors. Korean companies and government agencies including POSCO Group companies, KOTRA, the Export-Import Bank of Korea and the Korea Trade Insurance Corporation are located on the fourth floor and above.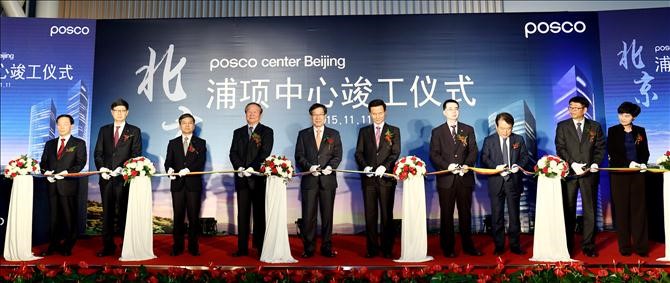 At the completion ceremony, CEO Ohjoon Kwon said, "China, despite global economic recession, is recording a high annual growth rate of seven percent on average, driving the global economy. The Beijing POSCO Center, which opened today, is expected to be a central hub for creating synergies of POSCO Group as well as creating new business opportunities. Centered at the Beijing POSCO Center, POSCO will do our best to grow as a respected company with local communities and interested parties."
Having started its Chinese businesses in 1991 at the Beijing Office, POSCO is now operating POSCO China, a representative affiliate, as well as six manufacturing centers and 12 processing centers in China. With the Beijing POSCO Center as its Chinese business hub, POSCO plans to strengthen group synergies and create new business opportunities in China.